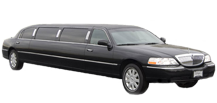 Limo Service
24/7 Limo & Car Service's town car service is perfect for business travel, airport rides or a safe and stylish transportation option for a special event or night out. 24/7's town cars are comfortable, luxurious and stylish black sedans—perfect for enhancing your ride experience.
Limo Rides to Los Angeles Airports
There's no better way to travel to and from the airport than a private town car service, especially in Los Angeles traffic! Rates are nothing compared to airport parking fees. Town cars or SUVs offer a much more comfortable and luxurious ride than public transit, taxis or airport shuttles. 24/7 Limo and Car services all major Los Angeles area airports, including LAX, Burbank's Bob Hope Airport, (BUR), and the airports in Van Nuys (VNY) and Long Beach, (LBG).
24/7 Limo Car Service 1-888-886-7999
Our Limos and Other Luxury Vehicles