Santa Monica offers a blend of urban energy, beach town atmosphere, world-class oceanfront hotels and a glorious Pacific Ocean setting that make it one of National Geographic's Top 10 Beach Cities in the World. Top attractions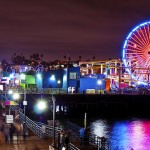 include the iconic Santa Monica Pier and Third Street Promenade, as well as numerous restaurants, shopping and cultural attractions that have attracted celebrities for decades. Santa Monica's award-winning culinary scene is renowned for fresh Farmers Market ingredients, diverse international influences and al fresco dining with ocean views. Shop for the perfect LA beach look at trendsetting boutiques and Santa Monica Place, a three level open-air shopping haven. Embrace the Santa Monica lifestyle and live like a local with beach yoga, surfing and bicycling.
Book a car service to Santa Monica City with 24-7 Limo Car Service.
Our Process:
Airport Services:
Car Service To or From Los Angeles International Airport (LAX) To Santa Monica
Car Service To or From Burbank Airport (bur) To Santa Monica
Car Service To or From Van Nuys Airport (VNY) To Santa Monica
Car Service To or From Long Beach Airport (LGB) To Santa Monica
Car Service To or From John Wayne Airport (SNA) (Orange County) To Santa Monica
Pick up and drop off Service:
More affordable of the two options, your driver will take you to Santa Monica City and return to pick you up at a pre-arranged pick up time. We know sometimes events at the Santa Monica City run longer than anticipated, and we make sure that you have driver contact information to adjust pick up times. (This can also be done through main dispatch number at 888-886-7999). Please note that hourly wait time fees may apply.
Hourly Service:
For those that want to have the convenience of having the driver wait on location, we also offer hourly wait time service. This way the driver will wait on location for the duration of the event, and client can be as early or as late as they wish. No need to notify the driver or dispatch about event running late.